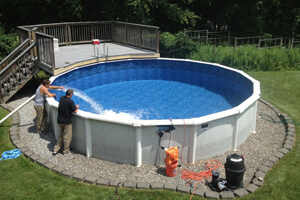 Are you planning on installing an above ground pool in your backyard? If so, you'll want to make sure you have the right foundation to support your pool and keep it level. That's where above ground pool pads come in. These durable and protective pads are designed to provide a stable and even surface for your pool, protecting it from damage and preventing uneven settling over time. But with so many options available on the market, how do you choose the best one for your pool?
In this blog post, we'll take a closer look at the top above ground pool pads on the market, and help you decide which one is right for your needs. From materials and size to durability and ease of installation, we'll cover everything you need to know to make an informed decision and ensure your pool is safe and stable for years to come.
1. GLI Armor Shield – Best Pad for Above Ground Pool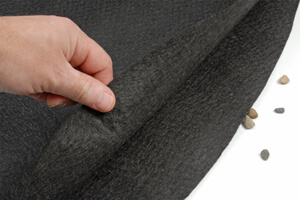 GLI Armor Shield stands out due to its exceptional construction quality and durability. GLI, the manufacturer of the Armor Shield, is the largest producer of swimming pool liners in the industry, which guarantees that the Armor Shield is of top-notch quality.
Unlike other above ground pool pads made of subpar materials, the Armor Shield is constructed with polypropylene geotextile, a durable material proven to resist punctures caused by roots, rocks, and other sharp objects. Moreover, it is mold and mildew-resistant, which further adds to its durability and requires little to no maintenance.
Aside from its toughness, the Armor Shield also offers a layer of cushioning between the liner and the sand or hard bottom, which helps in preventing footprints from forming and maintaining a smooth pool floor.
The Armor Shield comes with a remarkable three-year warranty, which speaks volumes about its quality. GLI also offers an extended warranty on their liners when used with the Armor Shield, providing peace of mind and ultimate protection for your pool.
In summary, if you're looking for the best pool pad that offers a combination of quality, durability, and excellent warranty, the GLI Armor Shield is the ideal choice.
Pros
Excellent construction
Specially designed to prevent punctures and holes
One-piece design is easy to install
Prevents footprints
Adds an extra layer of cushioning
Great warranty
Cons
Not ideal for square or rectangular pools
May need to cut to fit
2. Gorilla Pool Pad – Best Pool Pad for Leak Protection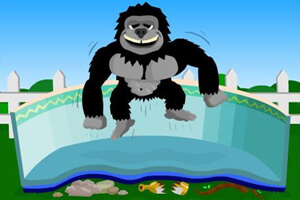 Gorilla Floor Pads, manufactured by Blue Wave Pool Products, represent a significant leap forward in pool floor padding technology. Unlike conventional foam padding used in pools, Gorilla Pad for above ground pools boasts unparalleled resilience and durability. It overcomes the limitations of traditional foam, which is prone to damage from underlying elements such as roots, rocks, and grass, by effectively safeguarding against these hazards and virtually any sharp objects.
Beyond its protective attributes, Gorilla Floor Pads provide an added layer of cushioning, greatly enhancing the comfort of walking on the pool floor. These above ground pool pads also effectively eliminate the formation of unsightly footprints, which can cause discomfort and inconvenience.
One of the notable advantages of this superior floor padding is its pre-cut sizing, ensuring effortless fitting for a variety of above ground pools, regardless of their dimensions. Furthermore, the seams around the edges offer enhanced durability, eliminating the need for time-consuming cutting, taping, and dealing with foam materials.
In addition to its remarkable features, Gorilla Floor Pads possess breathability properties, allowing for the escape of condensation and absorption into the ground. This crucial attribute prevents the onset of rust in above ground pools, ensuring long-lasting functionality.
It is worth noting, however, that these exceptional pool pads come with a 90-day warranty, which may leave some concerned about the guarantee of their quality. To alleviate such concerns, it is advisable to rely on the feedback and testimonials of satisfied Gorilla Floor Pad owners and reputable reviewers.
The robust and leak-proof design of these above ground pool pads is their defining characteristic. Specifically engineered to prevent punctures in the liner that could result in leaks, Gorilla Floor Padding excels in its intended purpose. Crafted from an incredibly durable geo-textile material, originally developed to safeguard trash dump liners, these pads exhibit the appearance of felt or a thin wool blanket while possessing exceptional toughness. They effectively thwart the penetration of rocks, roots, moles, and other potential hazards, safeguarding above ground pools from damage and ensuring leak-free operation. Sticks are unable to pierce them, and critters are incapable of breaching their protective barrier, providing the utmost protection for your pool.
For those who seek to preserve their summertime enjoyment without the fear of a leaky vinyl liner, Gorilla Floor Pads present a compelling choice.
Pros
Extremely difficult to penetrate
Breathable
Seamed and cut to size
Lightweight and easy to install
Cons
Only a 90-day warranty
Tough but very thin
3. Elephant Guard Armor Shield – Best Pool Pad for Easy Installation and Use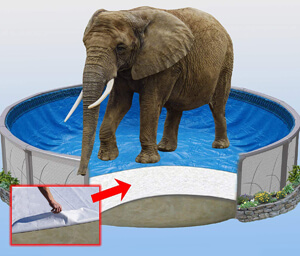 If you've ever put up an above ground pool before, then you know it can be quite a process. Despite advancements in pool design over the years, which have drastically improved the installation process, it still takes hours and there are several steps to take, like adding sand, leveling it, and placing a pool pad between it and the liner. The Elephant Guard Armor Shield was designed to make the latter easy as 1-2-3.
Like every other above ground pool pad, the Elephant Guard helps protect against punctures to pool liners from roots, rocks, nut grass, and anything else that may be lying underneath them. Aside from its breathable design, it also features built-in mildew and mold inhibitors to keep the bottom of your pool dry and corrosion-free.
All that being said, the real selling point of the Elephant Guard Armor Shield is its easy installation. Forget foam or other pool pads that require cutting and taping. The Elephant Guard makes them a thing of the past.
Installation Couldn't Be Easier
Elephant Guard Armor Shield pool floor pads are pre-cut to exactly fit a variety of round above ground pool sizes. Its one-piece construction requires no measuring, cutting, or taping, saving minutes of frustration.
Just place it under your vinyl liner atop a sand base and you're good to go. Best of all, once installed, you won't even know it's preventing liner punctures and protecting your pool from the ground up.
If you value your time and want a quality pool pad that fits and installs like a dream, you may want to check out the Elephant Guard Armor Shield. Not only is it easy to work with, but it does what it's supposed to do.
Pros
One-piece construction
No measuring, cutting, or taping needed
Installs in no time
Mold and mildew-resistant
Affordable price
Cons
Seams could be done better
Not compatible with expandable liners
Doesn't fit square or rectangular pools
4. Rhino Pad – Best Pool Pad for the Eco-Conscious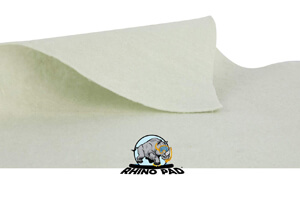 The Rhino Pad is another excellent pool pad for preventing punctures and leaks. Its special cloth fiber is durable, thick, and designed to defend pool liners against punctures and cuts from rocks, roots, glass, nut grass, and more. In other words, it provides an added layer of armor for your pool floor.
Similar to other quality pool pads, such as the Elephant Guard, the Rhino Pad also comes cut to fit a variety of pool sizes. It's pre-measured and cut to the specific size of your round above ground pool, so there's no measuring, cutting, or taping required. Unlike some other pool pads, however, it's also easy to trim in case it comes a little larger than expected.
The Rhino Pad also helps protect steel-walled pools against rust and corrosion. It does so by creating a vapor barrier and eliminating condensation. Plus, it cushions the feet and provides a smooth and enjoyable flooring surface as well.
Eco-Friendly Materials and Design
In addition to all of the above, the real beauty of the Rhino Pad lies in its eco-friendly materials and design. If you're worried about polluting the ground beneath your pool, don't be. It's constructed of a premium earthy woven geotextile material that was spun with the Earth in mind.
How so? Well, unlike many other poor-quality pool pads, Rhino Pads are crafted from 45 percent industrial recycled and 45 percent post-consumer materials. Not only does it protect against punctures and prevent corrosion by allowing moisture to pass safely through, but it's made of 90 percent recycled materials!
If you want to preserve your pool liner and the Earth as well, the Rhino Pad might be right up your alley.
Pros
Eco-friendly construction
Strong and durable
Pre-cut for hassle-free installation
Mold and mildew-resistant
Cons
May have to smooth some wrinkles out
Could be cut better
5. LinerLife – Best Pool Pad for Long-Lasting Toughness and Durability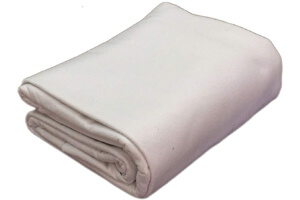 LinerLife pool pads are specifically designed to protect your pool liner and the bottom of your above ground pool. These tough, resilient pads create an almost impenetrable layer of protection against roots, grass, rocks, and almost any other sharp objects. By doing so, it helps eliminate all too common vinyl liner leaks.
At the same time, each pad also provides a comfortable cushion to walk on. While it isn't as thick and spongy as foam padding, it helps soften steps to create a more enjoyable backyard swimming experience.
Like other quality pool pads, the LinerLife pad also helps prevent the formation footprints in the sand underneath a pool liner. The tough and durable pad also comes pre-cut the exact size of your pool, so there's no need for measuring, cutting, and taping like there is with traditional foam padding. Since there are a variety of sizes to choose from, just make sure you pick the right one for you pool.
Durable Material and Tough-as-Nails Construction
Despite all it has going for it, the shining light of the LinerLife pool pad is its super-tough polyester geo-textile material. While all quality pool pads are tough, the material used for the LinerLife is so tough it's almost impossible to cut.
This means accurate measuring is a must. It also means the LinerLife pool pad does its job incredibly well.
The only real drawback of this tough and durable pool pad is the fact that it's less breathable than some of the other options.
Since it's woven a little tighter for extra strength, the LinerLife is less breathable and allows more condensation to form. However, unless you have a steel-walled pool, this shouldn't be an issue at all.
Pros
Very tough and durable material and construction
Quality, well-made product
Prevents leaks
Adds cushioning
Available in a variety of sizes
Cons
Not ideal for wet, humid climates
Sizes run a little large
Best Above Ground Pool Liner Pad – Buyer's Guide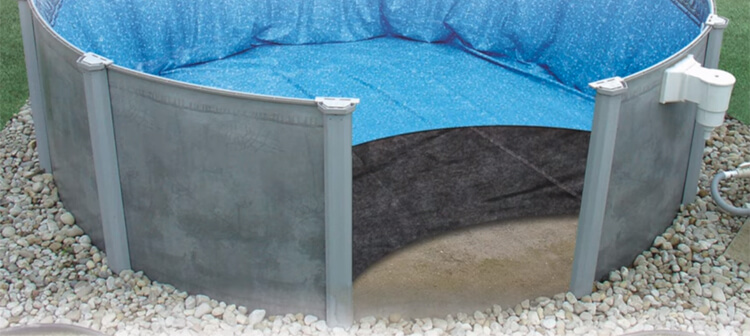 What to put under Intex Pool
Above ground pools are affordable and a ton of fun. However, other than some PVC vinyl, there isn't much protecting them from rocks, roots, and leaks. This where pool pads come in.
Pool floor pads provide specialized protection against these common pool liner threats. However, not all pool pads are created equal. To pick the right one for you and your pool, it helps to know a little about them.
What is an Above Ground Pool Pad?
An above ground pool pad is a piece of specially designed fabric that sits atop the sand and underneath your pool liner to provide an extra layer of defense against, grass, roots, rocks, glass, critters, and anything else in the ground that may puncture your liner and cause a leak.
Most quality pool pads, like the ones above, are made of a geo-textile material that resembles felt. However, it's far from standard pool or poker table felt. The material is specially woven to provide the right level of protection, cushioning, and breathability to extend the life of pool liners and the above ground pools they protect.
Why You Need a Pool Pad
Sure, you can install an above ground pool and enjoy it, at least for a while, without a pool pad. However, it would only be a matter of time until the pool sprang a leak, leaving you frustrated and without a pool to enjoy on a hot summer day.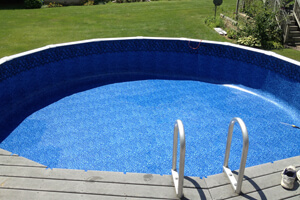 In addition to rocks and roots, beetles, moles, groundhogs, and other critters can do a number to the bottom side of an above ground pool. The ground beneath is moist, which attracts roots, bugs, and just about everything else.
With a pool pad, you can create a barrier and provide your above ground pool with the added protection it needs to stay looking and functioning its best.
What to Look for in a Pool Pad
Most pool pads are pretty similar, but there are some specific qualities every great pool pad should possess, such as:
Tough and Durable Construction

A pool pad must be tough enough to defend against punctures and leaks. The best pool pads are made of a geo-textile material similar to felt. It's thin and lightweight yet impenetrable to a variety of critters and sharp objects.

Breathability

In addition to toughness, a pool pad should offer breathability and allow for air flow as well. By allowing air and water to flow through, it will keep from trapping moisture and prevent deterioration and corrosion.

Extra Cushioning

While the primary role of a pool pad is to provide protection, a quality pool pad will offer added comfort as well. Despite being thin, they're able to add cushioned comfort to each step and make splashing around in the pool even more enjoyable.

Ease of Use

Last but not least, a pool pad should be easy to install and use. It should be pre-cut to the specific size of your pool and require zero measuring, cutting, or taping.
Making the Decision
Above ground pool pads may seem simple, but they're anything but. This means, choosing the best one for your pool is anything but simple as well, at least, it used to be.
Now that you've learned all about above ground swimming pool pads, what to look for, and some of the best options available, you now know more than enough to pick out the right one for your pool, backyard, and needs. So, weigh your options, read this guide one more time, and protect your pool with a great pool pad today!