A retractable awning is an additional overhang placed above a point of ingress on a building. However, this type of awning also features a mechanism that allows the canopy to be rolled into itself for protection from strong winds and rain. Whether it is a door or window, anywhere that might be exposed to the sun is a prime location for putting up an awning. Porches and patios are also excellent places to install a retractable awning as they will prevent harsh and hot sun from making the space uncomfortable during the day.
Best Retractable Awnings in 2020
Who Needs a Retractable Awning?
Retractable awnings can be useful for virtually anyone who owns some kind of property. Whether you live on the property, work at the property, or simply rent the property out, awnings can provide value. For those who live or work on the property, awnings can help reduce electricity costs associated with cooling the interior as well as protect window-adjacent furniture. Landlords can benefit from the increased property value that awnings provide.
How Do You Find the Best Retractable Awning?
This can be a bit of a tricky question as not all owners are looking to get the same benefits out of a retractable awning. To help answer that question, we have put together a list of the 5 best retractable awnings we could find and highlighted their best qualities. Then we provide a helpful buyer's guide, so you can find the best retractable awning to suit your needs.
When it comes to high-end awnings, few companies have developed as solid of a reputation as Advaning. Though they have a tendency to cost significantly more than many of their competitors, they are also noted for a high level of quality. For instance, this is the low-end model of the Advaning lineup, but even the "C" series – or the Classic series – comes with a number of features not commonly seen on other models.
For instance, while this retractable awning is designed to use an electric motor, it can also be used just as effectively as a manually operated retractable awning.
While there are other electric retractable awnings that can technically be used as a manual, they generally are not intended to be used as such. In this regard, the Advaning is a bit more versatile and extends its potential lifespan longer than any other product that we reviewed.
Beyond its mechanism, the Advaning also presents far more options and versatility from a profile standpoint. It is worth noting that awnings – retractable or otherwise – are used for virtually any opening into a structure whether that is a door or a window. Of course, for windows, you do not need a retractable awning that is 10'+ wide. Thankfully, Advaning offers a range of sizes from 8' x 7' all the way up to 16' x 10'.
Advaning C Series Features
Available Fabric Colors
Canvas Umber

Natural Beige +
Brick Red Stripes

Forest Green +
Cream Stripes

Sunny Yellow +
Gray Stripes

Forest Green +
Beige Stripes
How to Install a Retractable Awning
Pros
Comes in a wide variety of sizes
Comes in a wide variety of styles
Can be manual or automatic
Acrylic canopy is durable
Uses high-end installation hardware
Is widely adjustable
Excellent customer service
Provides protective semi-cassette
Cons
The most expensive retractable awning reviewed
Middle canopy can sag on larger models
Acrylic fibers can pill
Diensweek is a bit of a unique company on our list in that they pretty much just opened up shop. On top of that, they also currently sell almost exclusively online through Amazon. Normally, both of those qualities would set off a few red flags, but this company exceeds virtually all expectations and provides arguably one of the best retractable awnings that we could find – even more so when you consider it is nearly half the cost of the least expensive electric retractable awning we reviewed.
That said, it is also the most expensive manual retractable awning on our list, but its quality goes a long way in justifying that price.
For instance, this is retractable awning has by far one of the better canopies that we saw. Aside from the fact that it is made from a heavier 280g/m polyester fiber, it has also be coated in polyurethane to be completely waterproof. Moreover, it has further been treated to resist mildew and weather UV radiation better than most.
Beyond the canopy, the frame of this retractable awning is also similarly impressive. Though it is only made out of aluminum, it is made out of T5 aluminum – one of the strongest grades of aluminum used for outdoor residential applications. In fact, the frame of this retractable awning is rated for class 4 winds on the Beaufort scale. While that may not be exceedingly strong, it is still better than many of the other frames that we saw.
Pros
Comes in two different sizes
Comes in two different styles
Canopy made of 280g polyester
Canopy is UV protected
Canopy is mildew treated
Waterproof PU coated
Handles wind better than most
Frame made of T5 aluminum
Cons
A bit more expensive than some
Canopy sags when wet
Sunjoy is a bit of a unique company in that they initially started manufacturing primary electronic accessories but have since created an outdoor accessory department. This means that while their focus may not always be on outdoor accessories, they do at least have a dedicated division able to provide a solid product. However, this is definitely not the best retractable awning that we found.
Instead, the Sunjoy is better understood as a solid, budget-friendly electric retractable awning. For instance, the awning itself features a semi-cassette which ensures that the electric motor and other retracting components are protected from inclement weather and other potential issues which could otherwise negatively impact the performance of the mechanism. Though, that is not the only durability benefit of this retractable awning.
The Sunjoy also features a fairly well-made frame. Using the popular combination of steel and aluminum, Sunjoy further reinforces the frame of their awning by powder-coating it to help prevent any type of rust or corrosion from developing. This retractable awning can also be used manually, though that should only be engaged if the motor malfunctions for some reason as a manual use of the mechanism can interfere with a normally functioning motor.
Pros
Frame is powder coated
Frame made of steel and aluminum
Is fairly large
Canopy made of polyester
Can be extended manually
Features a semi-cassette
Cons
A fairly expensive retractable awning
Does not offer any variation
Difficult to install
4. Outsunny – Best Retractable Awning for Deck
Outsunny is not actually its own company but is instead a subsidiary brand within the Aosom corporate umbrella. Aosom, pronounced "awesome," makes a wide range of products, but outdoor decor and accessories are one of their main product categories. This provides the Outsunny brand with a bit of focused knowledge to still present a solid product despite a lack of market specialization.
In terms of the retractable awning, one of the best qualities about the Outsunny is the fact that it is made out of durable and treated polyester.
This canopy is rated for 280g/m which is fairly heavy – meaning it is more durable than many other polyester canopies that we reviewed. On top of that, the Outsunny canopy has also been treated to be protected against UV radiation and to be waterproof.
That said, this retractable awning is definitely intended to be marketed as a more budget-friendly model which means that there will be an inevitable give and take component to this product. For instance, the frame and hardware are made out of steel and aluminum. This is nice, but the steel and aluminum fabrication uses too thin of a gauge to provide as rigid and strong a support as you might otherwise prefer.
Pros
Is a less expensive retractable awning
Canopy made out of 280g polyester
Frame made of aluminum and steel
Canopy treated for waterproofing
Canopy treated for UV protection
Has mild adjustments
Cons
Only comes in a single size
Difficult to install
Frame not the sturdiest
Though Best Choice Products was founded over a decade and a half ago to sell billiard tables, the company has quickly expanded to offer virtually every consumer home good. While this does include an outdoor accessory division, it is worth noting that the broad range of products combined with the market plan of simply undercutting the competition's prices does leave a bit to be desired when it comes to their retractable awning.
That is not to suggest that this is a poorly made product, but you should definitely not expect some of the higher standards that a few of the other products we reviewed exemplify. That said, this retractable awning does at least provide a solid frame that is made of aluminum and steel. On top of that, the frame is then powder-coated to help protect it from rust and corrosion.
The biggest issue comes with the canopy which is better seen as a bit of a mixed bag than an actual flaw. For instance, the canopy is made out of polyester which is then treated to be both UV protected as well as water resistant. However, the canopy is also known to sag in the middle when the slightest bit wet and is a bit more transparent than some consumers prefer when dry.
Pros
Canopy is UV protected
Canopy made from water-resistant polyester
Is a less expensive retractable awning
Frame is powder coated
Frame is made of aluminum
Cons
Only comes in a single size
Frame sags in the middle
Not the most opaque
Buyer's Guide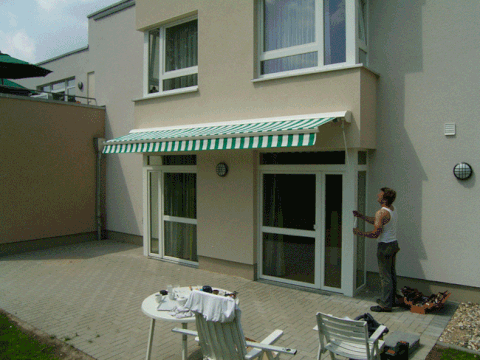 Mechanism
How your retractable awning retracts is a bit of a pick your poison consideration that does not have a single correct answer. Both types of retracting mechanism have their advantages and flaws, so you will need to consider carefully which benefits are more important and which flaws you are willing to live with. Keep in mind, this is not simply a matter of preference as the mechanism can ultimately influence the longevity of the retractable awning as well as the additional value it provides your property.
Manual
This is the basic and most common type of retractable awning available and requires your direct participation to function. Essentially, all manual retractable awnings have some sort of cranking mechanism – whether vertically or horizontally oriented – that requires you to crank it in order for the awning to both extend and retract.
The downside to this type of mechanism should be obvious: inconvenience. Aside from the fact that you must spend the time and energy physically extending and retracting the canopy, the crank itself may be difficult to manage for users who are not quite as strong as others – especially for elderly customers. On the plus side, a manual retractable awning is far less prone to mechanical failure than the electric type and are significantly easier to fix should something go wrong.
Electric
As opposed to the manual retractable awning, the electrical retractable awning is a thing of convenience. Rather than having to physically crank the mechanism to extend or retract the canopy of your awning, you simply press a button and an electric motor will do all of the work for you. In fact, this can actually provide further benefits that may even increase the lifespan of your retractable awning in the first place.
Specifically, some of the higher-end models of electric retractable awnings come equipped with storm sensors. These sensors are able to determine the strength of the wind as well as the saturation of the canopy when a storm is blowing in and will retract the canopy automatically. This is especially useful if you happen to forget to retract the canopy or is a sudden flash thunderstorm appears out of nowhere.
The primary downside of the electric retractable canopy is that more moving parts mean more possibilities for a mechanical failure. While this is bad enough on its own, the issue is further compounded by the fact that electric retractable awnings are far more expensive to repair than manual ones and are usually just cheaper to simply replace altogether.
Material
The material of a retractable awning generally refers to the canopy of the awning. The reasons for this are:
because the other components are either made out of plastic, aluminum, or stainless steel;
because there are a wide variety of materials used for the canopies while the other components differ far less.
The material that the canopy is made out of will generally determine how well the canopy holds up under different atmospheric conditions as well as its general durability. The overwhelming majority of materials used for retractable awnings are either fabric or plastic due to their combination of good tensile strength as well as their flexibility.
Canvas
Canvas is seen as the "classic" material used for retractable awning canopies and is also the only naturally occurring fiber readily used. It is important to note that canvas is usually made out of cotton or linen but will occasionally be made out of hemp as well – though that is far less common these days. Canvas is one of the more durable materials used for retractable awning canopies, but it is also more prone to suffer from environmental exposure and is one of the more expensive materials used as well.
In terms of durability, canvas has the most tensile strength out of all of the materials used for awning canopies except for aluminum. However, canvas is far more flexible than aluminum, so it provides the overall most durable performance for an awning canopy. That said, as an organic material, canvas is also the most prone to suffer from climate-related degradation.
For instance, untreated canvas will develop mildew quicker and more intensely than any of the other materials on our list. It also does not help that canvas is one of the least hydrophobic materials used for retractable awning canopies which means that not only will it hold water it will feed the mildew even further. Finally, canvas is definitely prone to UV deterioration, though not as much as PVC or polyester.
PVC
Polyvinyl chloride, or PVC, is the first of many synthetic materials used in the manufacturing of retractable awning canopies. While this material definitely has some advantageous qualities to it, it is ultimately the least desirable material for one reason and one reason alone: durability. In terms of its actual tensile strength, PVC is likely the lowest on the list and is far more prone to ripping or tearing than any of the others.
That said, it is important to note that PVC is actually a type of plastic, and as such, it carries with it many of the best qualities of plastic as well. For one, this is the only material that is exceptionally flexible that is also waterproof. While many of the other materials are hydrophobic, if exposed to enough moisture, they will ultimately retain the water. As plastic, PVC is also naturally resistant to mildew and will not produce mildew without an organic substrate on it.
Polyester
Polyester is arguably one of the more versatile and common materials used in the production of retractable awning canopies. In some respects, polyester can be seen as providing the best of all worlds, though it is not without some potential faults which much be considered before accepting this material as the selection of your retractable awning canopy.
First, polyester is by far one of the least expensive materials used for retractable awning canopies. The only other material which can legitimately challenge it at price points is PVC which is actually a far inferior material in most respects by comparison. That said, the financial benefits of polyester are only further increased by the structural benefits that this synthetic fiber presents. When taken together, this almost unquestionably makes polyester the better all-around value – though not necessarily the best performing for all situations.
Second, polyester is naturally hydrophobic and will retain water less than canvas. That said, this is actually one of the more water retaining materials used for retractable awning canopies. Still, it is also one of the most naturally mildew resistant materials used and by far the most resistant fibrous material used. Finally, polyester is reasonably effective at resisting UV radiation and can easily be treated to resist it even better.
Aluminum
Aluminum is by far a unique material used for canopies on our list. For one, it is the only material on our list that is not either woven into a fiber or welded as a plastic. Moreover, aluminum is by far the least flexible material on our list which generally reduces its effectiveness as a canopy material for retractable awnings. Still, there are some commercial and industrial awnings which either make use of aluminum shingles or simply retract the entire awning.
That said, aluminum is by far the most durable material used for retractable awning canopies. It is naturally rust resistant and can actually be treated so it is even more so. It has by far the greatest tensile strength of any material used and is more likely to simply be pulled from its scaffolding than it is to tear. Finally, aluminum is also naturally resistant to both mildew and UV radiation without any additional treatment – though it can fade from sunlight without some form of protective coating.
Acrylic
Acrylic is not always actually a material used for retractable awning canopies in its own right and is often better understood as one of many potential protective coverings applied to another base material. That said, there are literal acrylic fibers, and they too are often used as the base material for a canopy. We realize this can be a bit confusing, but the difference between the two is significant.
Most acrylic coated canopies are actually made out of canvas which has then had a coating of acrylic paint placed on top of it to make it more durable and resistant to inclement climates. Acrylic fibers, on the other hand, function far differently and are more akin to polyester than the cotton fibers of heavy canvas.
Though acrylic fibers are wool-like in nature and can be used in clothing for body heat retention, their use in retractable awning canopies generally does not have the same effect. In fact, acrylic is one of the more UV-resistant materials that are either welded or woven into fabrics. Even better, acrylic fibers are naturally hydrophobic like polyester and PVC, so you will not have to worry about the canopy retaining water.
Durability
With any product you purchase, its durability will be a primary consideration. However, that is never truer than when the product in question is expected to withstand even mild exposure to the elements. In this instance, it always helps if the constituent components of the product are reinforced by one or more options that will further increase the lifespan of the product. This is especially true for retractable awnings as it is often not worth the money to try and repair a failed component and is instead simply a better idea to replace the entire awning altogether.
UV
Anything exposed to the sun over a long enough period of time will eventually begin to degrade under the barrage of its ultraviolet radiation. Some materials handle this better than others, but all of them are ultimately susceptible – especially when the exposure extends for years at a time. With retractable awnings, this effect shows itself most prominently in the canopy.
While there may be some specific exceptions – especially if the canopy is not made from any type of fabric or plastic – most retractable awning canopies are prone to suffer from sunlight damage. This can actually take a couple forms, one of which will lead to the ultimate failure of your retractable awning while the other will simply make it less attractive and diminish any additional value it may provide the property it is attached to.
The first type of sun damage involves the UV rays literally degrading the structural integrity of the canopy's material. In this instance, the sunlight will either melt or fray the sheet or fibers respectively until such point in time that they become prone to tearing. In fairness, this is far more likely to occur with plastic canopies than fabric ones, but both are prone to this issue.
The second issue with sunlight damage is a bit more benign but can still ultimately reduce the value of the awning. Specifically, the canopy's colors will fade over time as the UV rays bleach it. In fairness, this is actually the intent of retractable awnings used to cover windows, but it is still an issue nonetheless. Thankfully, the solution for both of these problems is to simply purchase a retractable awning that is made out of a naturally durable material and is protected with one or more coatings that will block or reflect UV rays.
Mildew
Once again, the most fragile part of a retractable awning is the canopy – though this makes sense since the other components are generally made out of either metal or plastic. Regardless, mildew will present a few risks to both you and your property should it develop on the canopy of your retractable awning which is why it is vital you make it a point to protect yourself from it.
To be clear, not all canopy materials are equal in this regard either, though they have a tendency to follow the inverse rule for sun damage. In this instance, canopies that are made out of fabric are far more prone to develop mildew than canopies which are made out of plastic. Of course, metal canopies are rarely troubled by this circumstance either.
Regardless, there are a few ways that canopies can be protected against the development of mildew. One of the more popular methods is to use some sort of coating – much like with UV protection – though this generally will not last as long. The other method of mildew prevention involves treating the canopy before it is ever woven or welded so that it remains protected inside and out.
Conclusion
As we can see, there is no single product that will be the best retractable awning for all consumers. If you are interested in convenience, you will probably want to opt for an electric retractable awning. However, if overall value is more your schtick, then a manual retractable awning should suit you perfectly.
For the former, we suggest the Advaning. Even though it is an incredibly expensive retractable awning, every part of this product practically oozes quality. From the variety of sizes and styles to the acrylic canopy, this awning provides qualities that no other brand on our list does. Even better, this awning can be used as both an electric or a manual retractable awning depending on your preferences.
Of course, if you are not looking to break the bank on an electric retractable awning, the Diensweek is arguably the best product that we reviewed. If it came in an electric model, it would without a doubt be the best product on our list. With an incredibly durable canopy that is resistant to pretty much whatever you can throw at is and a T5 aluminum frame rated for Beauport 4 level winds, you would be hard-pressed to find a better all-around value.