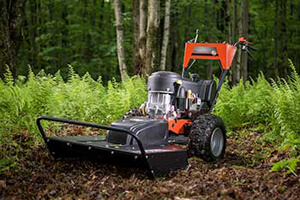 Maintaining a tidy and well-manicured garden or lawn can be a challenging task, especially when it comes to dealing with overgrown grass, weeds, and other tough vegetation. While handheld brush cutters and trimmers can be useful for small-scale projects, larger areas require more heavy-duty equipment. This is where walk-behind brush cutters come into play. Designed to tackle tough vegetation and rough terrain, these machines can make quick work of even the most challenging outdoor spaces.
In this blog post, we'll take a look at some of the best walk-behind brush cutters on the market and provide you with all the information you need to choose the right one for your needs. Whether you're a professional landscaper or a weekend gardener, there's sure to be a brush cutter on this list that will help you get the job done quickly and efficiently.
1. Swisher WRC11524BS – Best Budget Walk Behind Brush Cutter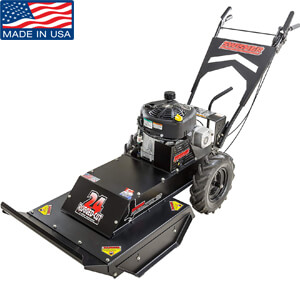 Swisher is a well-established company specializing exclusively in outdoor lawn care equipment. While their focus leans towards the consumer-grade market rather than the professional-grade, this does not undermine their experience or reputation. As a result, it is essential to recognize that although Swisher is our top-rated choice, it may not deliver the highest level of performance and is not suitable for commercial applications. However, if you are an average consumer such as a homeowner or a DIY enthusiast seeking a cost-effective brush cutter that gets the job done, the Swisher is an ideal option, which is why we have recognized it as our best budget walk-behind brush cutter.
Impressive Deck and Height Range
Despite being the smallest product on our list, the Swisher brush cutter boasts a 24″ deck, conforming to the industry standard for consumer-grade brush cutters.
Notably, the Swisher outperforms all other products in terms of deck height range. With a maximum cutting height of 4 ¾" and a minimum cutting height of 3″, it offers ample flexibility when dealing with overgrown brush that has been neglected for an extended period.
Balancing Advantages and Disadvantages
One outstanding characteristic of the Swisher brush cutter is its maneuverability, surpassing that of heavier counterparts. Despite weighing around 252 lbs, it remains lightweight in comparison and features larger, heavy-duty wheels akin to other brush cutters. The 11 ½ hp Briggs and Stratton engine delivers respectable cutting power, although the Swisher is not exceptionally fast. The primary drawback lies in the fragility of the control levers, particularly if handled without caution.
In conclusion, while Swisher caters more towards the consumer-grade market, it is a reputable company with considerable expertise in outdoor lawn care equipment. The Swisher brush cutter, although not the most powerful or suited for commercial use, excels as a budget-friendly option, displaying an industry-standard deck size and an impressive range of cutting heights. Its maneuverability and cutting power, combined with the caveat of delicate control levers, make it a viable choice for those seeking a cost-effective walk-behind brush cutter.
Pros
Has 11 ½ hp
Has a 24" cutting deck
Has the highest maximum cutting height
Has the shortest maximum cutting height
Is the lightest brush cutter reviewed
Is the least expensive brush cutter reviewed
Cons
Not the most durable
Not the fastest cutting
2. Brush Beast 36BBM17 – Best Heavy- Duty Brush Cutter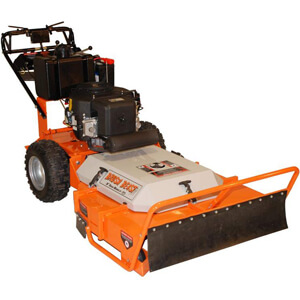 Brush Beast is by far the newest and least experienced company that we reviewed and is owned by GXi Outdoor Power. Though the company specializes in outdoor lawn care equipment, they have a bit of a spotty track record and are not BBB accredited. This means that if something does go wrong with your Brush Beast, you may have some difficulty getting customer service to respond. However, this brush cutter is not only one of the more durable brush cutters we encountered, but it is also the only one we feel suitable for commercial-grade applications. In fact, Brush Beast is by far the best performing brush cutter that we reviewed which is why we rated it our best professional walk behind brush cutter.
Power to Spare
If you are looking for a brush cutter that can handle commercial jobs, you need to make sure that the brush cutter has the power capable of working day in and day out through the toughest of piles. Thankfully, the Brush Beast is just the brush cutter for that job as the 653 cc Subaru 2-stroke engine generates 22 hp of power. Even better, the Brush Beast is able to better translate that raw power into usable cutting power with a peerless dual hydrostatic transmission that ramps the cutting speed up to 18750 ft/min. The only downside to all of this cutting power is that the machinery necessary is over 650 lbs which is by far the heaviest and least maneuverable brush cutter we saw.
Better Built
The Brush Beast offers plenty of power, both general and cutting, but it is also one of the more sturdy and durable brush cutters on our list too. For one, this brush cutter features a body made of steel that is 7 ga thick – easily the thickest body we saw. On top of that, the cutting deck is a whopping 36" with a maximum cutting height of 4" for those long overdue piles. The Brush Beast also comes equipped with an electric start to prevent having to waste time and energy trying to pull-start the machine.
Pros
Has 22 hp
Has a 36" cutting deck
Has a 4" maximum cutting height
Made of 7 ga steel
Cuts faster than most
Has the most powerful cutting action
Cons
Is a more expensive brush cutter
Is the heaviest brush cutter reviewed
3. Billy Goat BC2600HEBH – Best DIY Walk Behind Brush Cutter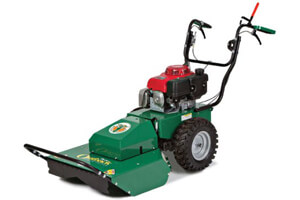 Billy Goat is actually the only company on our list that is actually not made by an exclusively outdoor lawn care equipment manufacturer. Briggs and Stratton, the parent company, does at least specialize in the gas engines for outdoor lawn care equipment and is the most experienced company on our list. Unfortunately, this means that Billy Goat is considered one of the premier outdoor lawn care equipment manufacturers, and they are well aware of this fact. As such, the Billy Goat brush cutter also happens to be the most expensive product we reviewed without being the best performer – though it does come in second.
Goose it a Little
As the brand representing one of the oldest and most prestigious outdoor lawn care equipment manufacturers, Billy Goat makes it a point to be just a little bit better than the other consumer-grade brush cutters. First, this brush cutter uses a powerful Briggs and Stratton Honda engine that is able to pump out 13 hp from 390 cc of displacement. Another area where the Billy Goat just edges out many of their consumer-grade competitors is with the deck. This brush cutter has a deck that is slightly larger than the consumer-grade average at 26" which will increase the overall cutting speed.
Easy Breezy
The Billy Goat does incrementally improve upon the consumer-grade market's performance, but its main benefits come from its convenience – as most consumer-grade products do. For one, the Billy Goat features an electric push-start so you do not have to worry about wasting time and energy trying to pull-start the engine. On top of that, the Billy Goat also features a unique suspension system that allows it to mulch brush over and uneven terrain without scalping the ground below it. All of the controls are also fairly easy to use with levers right at hand's reach as you use the brush cutter and clearly labeled so there is no future confusion.
Pros
Has 13 hp
Has a 26" cutting deck
Has an electric start
Is easy to use
Cuts faster than some
Cuts better on uneven terrain than most
Cons
The most expensive brush cutter reviewed
Not the most cutting power
Best Walk Behind Brush Hog – Buyer's Guide

Power
The power of a brush cutter can be judged in a couple of different ways, but the most common way is to look at the engine. The size of the engine displacement, as well as the amount of horsepower generated, are vitally important power specs. For one, this will have outsized importance on how you have to use and maintain the brush cutter. On top of that, larger engines also have a tendency to last longer than their smaller cousins whose components usually wear out quicker. That said, however important the engine power may be, for the user of the brush cutter, the cutting power is likely far more important.
However, it is important to remember that cutting power does not necessarily tell you how quickly the brush cutter can cut, though it will influence that aspect as well. Instead, the cutting power generally refers to what kinds of brush the brush cutter can effectively cut. Most brush cutters are designed to mulch more than just grass and smaller twigs or stick, but the limits of their cutting power will determine whether the brush cutter is meant to be used for consumer or commercial purposes. The best way to get a gauge regarding the brush cutter's cutting power is to look at the maximum diameter of the brush that can be cut. Brush cutters with more cutting power are generally able to mulch thicker pieces of wood, including whole saplings.
Speed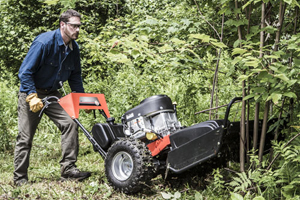 Much like with the power of a brush cutter, the speed is another consideration which actually has a couple of different interpretations – both of which are important for different reasons. Again, like with power, the most common idea that comes to mind when considering a brush cutter's speed is its actual movement speed. While the engine does play a bit of a role in this quality, the transmission is generally the more relevant aspect. That said, the movement speed of a brush cutter is rarely the important speed consideration since most brush cutters rarely travel quicker than a handful of miles per hour. This being the case, the other way that we judge a brush cutter's speed often turns out to be far more important to the user than its moving speed.
The other type of speed we consider when choosing a brush cutter is the cutting speed which is a different specification than the cutting power. The cutting power will determine the brush cutter's ability to cut larger pieces f brush that are more than an inch thick. However, how quickly the brush cutter will work when clearing out smaller or thinner pieces of brush is often just as, if not, more important. This is because you will always have light brush to clear, but you may not always have to worry about the heavier brush. The cutting speed itself can be judged in a couple of ways, both by the blade speed and the acreage speed, but the acreage speed generally tends to be the preferred form of measurement.
Build
While all power tools, regardless of their purpose, are ostensibly heavy-duty products, some of them need to be a bit more durable than others. In this case, the brush cutter needs to be on par with any other outdoor lawn care equipment category. However, the durability of a brush cutter is determined by a couple of things, not the least of which is the size of the engine. The size of the engine may allow it to generate more power, but the larger engines also have larger components which are less likely to break. Another important build quality related to the durability is the body material, which is almost always going to be steel but can come in a number of different thickness gauges. Finally, the tires should be fairly large and sturdy as most brush cutters are hundreds of pounds and require a solid frame.
That said, generally, the most important factor of the build quality relates to the deck, though this too has some digressions. In terms of performance, the wider a deck is, the more brush it can cut at once and the quicker it can cut the brush over a given area. However, there is a slight balancing act required to make sure that the brush cutter can generate enough cutting power to handle the amount of brush the deck can admit. On top of that, the deck's suspension system is also vitally important, not just to raise and lower the deck but to make sure that it does not scalp the ground while you mulch the brush.
Range
Though we alluded it earlier when discussing the deck, it is important to remember that not all types of brush will be best mulched with the same cutting action. As such, most manufacturers offer some ability to adjust the cutting action of the brush cutter to best suit your current needs. This can be approached from a functional adjustment as well as a positional adjustment with both of them being fairly important. That said, between the two, the ability to physically adjust the position of the deck is by far the most relevant. This is because brush cutters are often used on uneven terrain or to mulch odd brush which is rarely homogenous and will require different heights. On top of that, when mulching large piles of brush, you will often need to attack the pile from the top as opposed to the bottom due to the brush pile's leverage.
The other ranges that are important relate to the brush cutter's speed, both the movement speed and the cutting speed. With regards to the cutting speed which is the more important of the two speeds, brush of different hardnesses and densities are best cut at different speeds. Harder materials, like whole wood, should be cut at higher speeds than softer materials like wet, rotting wood. While most brush cutters can eventually get through anything at top speed, that might not be the most efficient way to cut given brush and could decrease the product's lifespan. The other important speed-based adjustment relates to how fast the brush cutter moves, though it will rarely go faster than a brisk walk.
Ease of Use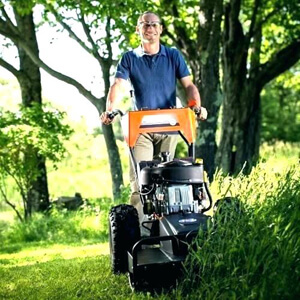 This quality is relevant for all brush cutters, but it definitely gets a bit more prominence among the consumer-grade brush cutters. This is because professional landscapers will rarely use some of the bells and whistles manufacturers provide and are not interested in paying more for no good reason. However, there are some ease of use features which improve the quality of function enough to justify their value. One of the most important ease of use features is some kind of advanced start that does not rely on a pull-start. Even a spring-loaded pull-start is a vastly inferior option compared to a turn-key or an electric starter. Related to the engine, a number of manufacturers have also started to dampen the engine noise, though this is likely more important for general consumers who are not used to the volume as opposed to professionals who work with it every day.
Other ease of use features include quicker and easier access to the primary maintenance point as well as an expansion of the adjustments and their controls. This latter feature is one more commonly targeted towards the consumer market whose buyers might not have the skill and technique honed by professionals out in the field. However, professionals will often bend over backwards to pay more for features which either make performing maintenance easier or less frequent altogether. Another minor addition manufacturers can include is an ergonomic handle that is either padded or features some sort of anti-slip coating.
Conclusion
At the end of the day, the best walk behind brush cutter is the one that can help you finish your jobs for the least amount of money. In this instance, the Swisher offers a solid performance that can last a while with a little bit of T.L.C. Of course, there are some jobs that even the Swisher cannot handle in which case we recommend the Brush Beast. This brush cutter lives up to its name with a beastly 653 cc 22 hp 2-stroke Subaru engine that can cut an acre in about a half hour. And if you just want an easy brush cutter that requires less experience or effort, the Bully Goat is our best DIYer walk behind brush cutter.