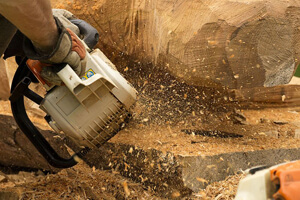 Chainsaws are essential tools for many outdoor projects, from pruning trees to cutting firewood. But for those with smaller projects or limited storage space, a large and bulky chainsaw may not be the best option. Fortunately, there are many smaller gas-powered chainsaws available on the market today that offer both power and convenience in a compact package.
In this post, we'll take a closer look at some of the best options available for those in need of a small gas-powered chainsaw. We'll explore the features and benefits of different models, including considerations such as weight, power, and safety features. We'll also provide some essential tips for choosing the right chainsaw for your needs, including factors such as budget, project scope, and experience level. So whether you're a homeowner looking to tackle some light outdoor projects or a professional with specialized needs, this guide will help you find the perfect small gas chainsaw for your needs and get the job done safely and efficiently.
1. Tanaka TCS33EDTP/12 – Smallest Gas Chainsaw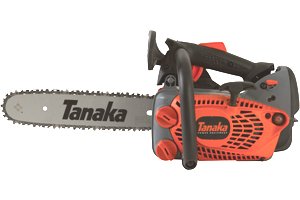 Tanaka is a reputable company and a subsidiary of Hitachi, a renowned power tool manufacturer, specializing in outdoor equipment. Understanding Tanaka's affiliation with Hitachi provides valuable insight into the type of chainsaws they offer, positioning Tanaka as a mid-tier brand. It is worth noting that despite its positioning, Tanaka chainsaws are capable of handling professional tasks, making it a popular choice among landscaping professionals. Tanaka chainsaws are known for their reliability, adequate power, and competitive pricing compared to other brands in the market. While not considered a budget option, Tanaka offers the best overall value for a small chainsaw based on our findings.
Sturdy Construction
Although the Tanaka chainsaw is not designed for prolonged use in professional-grade applications, it boasts a solid build quality. Notably, it features an impressive engine with a displacement of 32.2 cc and the ability to reach up to 12000 full-throttle RPMs. An additional advantage lies in the Tanaka's engine being a low-emission 2-stroke engine. This feature holds particular relevance in areas with strict local ordinances that limit emissions from gas-powered tools. Moreover, this arrangement benefits users through increased fuel efficiency compared to the average gas-powered chainsaw.
Convenient Features
Given its smaller size, the Tanaka chainsaw endeavors to compensate for its inherent lack of cutting power by incorporating convenient features to streamline your work. However, while Tanaka addresses certain potential issues, it inadvertently opens the door for others to arise. This is particularly evident in the case of the Tanaka chainsaw's automatic chain oiler. The clutch-driven automatic chain oiler is intended to eliminate the need for manual chain oiling after chainsaw use. Although effective in fulfilling its purpose, it unfortunately suffers from oil leakage even when the chainsaw is not in use.
Pros
Has a 32.2 cc engine
Is a lightweight chainsaw
Has an anti-kickback 12' bar
Has a low-emission 2-stroke engine
Has an automatic chain oiler
Has a quick chain tensioning system
Cons
Has a tendency to leak oil
Not for professional-grade jobs
2. ECHO CS-271T – Most Convenient Small Gas Chainsaw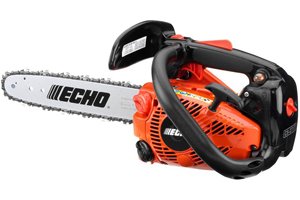 ECHO may not be a household name, but the company has been around for over 7 decades and specializes exclusively in outdoor lawn care equipment and always has. That said, it seems as if ECHO is going more towards the consumer-grade market as opposed to the professional-grade based on the specs of this particular chainsaw. Specifically, this chainsaw has the smallest engine displacement at under 30 cc and produces the least amount of cutting power. Technically, you can still use the ECHO CS-271T to make any kind of cut, but it will take longer than with other chainsaws – even other ECHO chainsaws. All the same, the ECHO is by far the most convenient small gas chainsaw which further cements its entry into the consumer-grade market.
Easy Use
When ECHO made this chainsaw, they took pretty much every quality included for convenience that is generally found on the market. The only potential issue in this regard is the closed chain brake which can block your sightline, but it is also much safer than most of the post designs. However, the quality which makes this the easiest chainsaw we found to use is the i-30 quick start system which uses a spring-assisted mechanism to reduce the amount of force necessary to start the engine. On top of that, the ECHO also allows quick and easy side access to the chain tensioning system. Even better, this is the lightest weight chainsaw that we found and also features a solid center of balance and anti-vibration system too.
Professional Touches
To be clear: in no way, shape, or form are we suggesting that the ECHO CS-271T is suitable to be used for professional jobs, but that does not mean that ECHO did not go ahead and provide some professional-grade features. One of the biggest features in this regard is a throttle lock which, while incredibly convenient for longer jobs that require hours of cutting, is also incredibly dangerous. Another interesting feature not found on many other chainsaws we reviewed is the lanyard clip to assist carrying the chainsaw as you climb a tree.
Pros
Has an i-30 quick start system
Has an anti-vibration system
Is easy to adjust
Has an automatic chain oiler
Is the lightest chainsaw reviewed
Has uncommon extra features
Cons
The least powerful chainsaw reviewed
A more expensive chainsaw
3. Husqvarna T435 – Best Professional Small Gas Chainsaw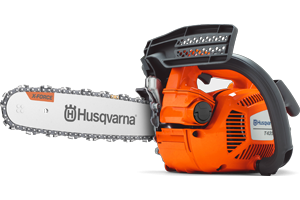 Husqvarna is easily the oldest company on our list, though they originally made muskets in the colonial era. Still, these days, Husqvarna specializes exclusively in the manufacture of outdoor lawn care equipment and their accessories. In fact, Husqvarna is one of the most respected brands in this market after Stihl and is used by professionals around the world. That is in part why we rated the Husqvarna T435 our best professional small gas chainsaw which is a bit of an unusual category. Of course, you get what you pay for and the Husqvarna is also the most expensive small gas chainsaw on our list.
Great Power
Though the Husqvarna is not the most powerful small gas chainsaw that we reviewed, it is the second-most powerful and is still able to generate plenty of cutting power. The 35.2 cc engine has a big part to do with this, but the engine is not simply a power component. The Husqvarna is also one of the few chainsaws on our list that also has a low-emission system. Some local municipalities require that your professional equipment meet certain air emission standards. On top of that, a more efficient engine will save on the cost of fuel and can better transfer the power generated by the motor into cutting power.
Mostly Convenient
The one functional issue of the Husqvarna chainsaw is the fact that it does not have an easy start system and can take a number of pulls to get started. That said, the chain tensioning system is incredibly easy to use and far more reliable than some of the more budget-minded options on our list. On top of that, the chain break features a see-through design that allows you to maintain a good sightline with the tip of the chainsaw bar. When you consider the power and the size of the engine, it may surprise you to find out that the Husqvarna is also the second-lightest chainsaw on our list. This is important because chainsaws used for professional jobs are rarely all that small, though some jobs do require the additional maneuverability.
Pros
A more powerful chainsaw
Has a 35.2 cc engine
A more efficient 2-stroke engine
More reliable adjustments than others
Is ergonomically designed
Has good lightweight balance
Cons
The most expensive chainsaw reviewed
Not the easiest to start
4. ECHO CS-310 – Best DIY Small Gas Chainsaw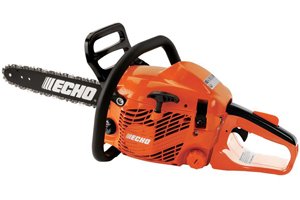 ECHO makes another appearance on our list, but this time the target consumer is not the absolute neophyte. Instead, the ECHO CS-310 is better understood as one of ECHO's budget-friendly models. Sadly, it is not anywhere near the least expensive small gas chainsaw on our list, though it is the second-least expensive. It also has a number of the features that make the flagship ECHOs so attractive to a non-professional consumer base. It is the combination of solid design with a reasonable price that leads us to rate this the best DIY small gas chainsaw.
Easy Care
One thing that some chainsaw manufacturers overlook when making their product convenient is how much time, energy, and patience it takes to properly care for your chainsaw. Many manufacturers have sought to fix some issues before they ever start with automatic chain oilers, but there are a number of other maintenance tasks that often need to be taken care of out in the field – though the ECHO did make sure to include an automatic chain oiler as well. However, it is the position of the air filter which interests us the most as this can be a big problem for some chainsaws. Basically, the air filter is positioned at the top of the back of the chainsaw so you can easily clean it when necessary.
Easy to Use
By far one of the best qualities of the ECHO CS-271T which is shared by the other products in the lineup is the i-30 easy start system. Basically, this starter has a spring-loaded mechanism which makes starting the chainsaw much easier, lessening the force requirement to start the 2-stroke engine. On top of that, this is one of the few chainsaws on our list that features a chain brake that you can see through. With the double post design, the ECHO CS-271T does not obscure the sightline like other chainsaws do, though this is technically a little less safe. Still, so long as you were the proper protective clothing, it is not something that you should worry about.
Pros
Has an anti-vibration system
Has an automatic chain oiler
Has a better sightline than most
Has i-30 easy start technology
Is easy to adjust
A less expensive chainsaw
Cons
Not the most durable
A heavier chainsaw
5. Remington RM4214 – Best Budget Small Gas Chainsaw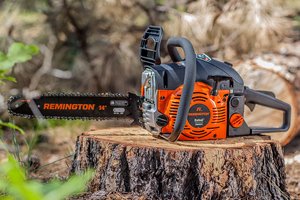 Remington is actually one of the few companies we saw that did not originate as an outdoor lawn care equipment manufacturer and instead specializes in saw specifically. This does have some important implications in terms of how Remington designs their chainsaws and what they are intended to be used for. Basically, Remington positions their products for professional use and even gives them the specs and features necessary for that task. Unfortunately, specializing in saws does necessarily mean you understand all of the nuances when moving to a similar field. That said, there is no question that this is the best budget small gas chainsaw that we found.
Power to Spare
When looking for a small gas chainsaw, one of the more difficult decision resides with how much cutting power it can generate. Generally, you would set your budget and get the most powerful chainsaw that is also reliable and convenient to use. However, doing that in the small gas chainsaw market produces the Remington RM4214. To be clear, even though this is the least expensive chainsaw on our list it is also the one with the most cutting power. This is almost entirely due to the fact that the Remington also has the largest engine by almost 7 cc. Though, the other shoe does have to drop somewhere and the Remington also happens to be the heaviest chainsaw on our list too.
Solid Design
While the Remington does not necessarily go out of its way to provide features that their more expensive competitors might offer, they do ensure that the industry standards all make an appearance. For instance, this is one of the more ergonomically designed chainsaws we found in a market that is currently innovating more in convenience than anything else. The anti-kickback bar helps keep you safe while the spring-loaded quick start technology prevents you from tiring out just trying to start the Remington. It also has a 5-point anti-vibration system to help combat some of the fatigue the additional weight is sure to bring.
Pros
The most powerful chainsaw reviewed
Has a 45 cc engine
Has an anti-kickback bar
Has quick start technology
Has a 5-point anti-vibration system
Is ergonomically designed
Cons
The heaviest chainsaw reviewed
Has a poor air filter
Buyer's Guide

Dimensions
Considering this article covers the smallest gas chainsaws, the most important specs to consider will be different than for lists of other types of chainsaws. While the cutting power is generally the most important quality to consider for chainsaws, and it is still plenty important for this list too, the smallest chainsaw will primarily be determined by its physical dimensions. Of course, the physical dimensions can mean different things depending on how you are judging that aspect. For instance, you could have an incredibly compact chainsaw body that is still unable to cut in the same spaces as a bulkier chainsaw with a bar that is half as long.
That said, the size and bulk of the chainsaw's body will still have a huge impact on how maneuverable the chainsaw is which is the other big reason to use a smaller chainsaw. As such, a compact body will have a better center of gravity and will likely be easier to use in non-traditional manners. While the proper technique for using a chainsaw should always be employed when possible, there are still plenty of situations and cuts which require less than proper technique. Having a smaller chainsaw with a better center of gravity will make maneuvering the chainsaw to make these awkward cuts that much easier.
Weight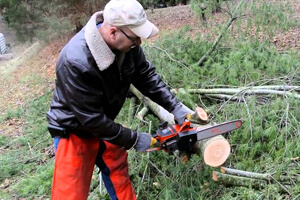 Outside of the physical dimensions, the other quality which takes an outside role compared to the other categories of the chainsaw is the weight. The principle for this remains similar as to the physical dimensions of the chainsaw in terms of why you want a smaller chainsaw to weight less than others. However, the weight of a chainsaw is not always distributed evenly which leads to different centers of gravity. Manufacturers can actually use this to make using a chainsaw in different circumstances more or less easy.
That said, the overwhelming majority of chainsaw manufacturers design their products so the center of gravity sits near the half of the bar closest to you. This is to make it easier to use the proper technique, but a smaller chainsaw allows you to do different things than their larger, unwieldy cousins. It is important to note that the common reason for worrying about a chainsaw's weight does not really apply here. Generally, a chainsaw's weight is more closely tethered to user fatigue, but few small chainsaws are heavy enough and designed poorly enough to cause that issue.
Power
Like we said before, power may not be the most important consideration when choosing a smaller chainsaw, but it is still one of the more important qualities. This is even more relevant for a gas-powered chainsaw as they are expected to perform more difficult cutting tasks than your electric chainsaw – regardless of whether it is corded or cordless. This can get a bit tricky with smaller chainsaws, however, because the engine cannot be so large that it makes the chainsaw too heavy to easily wield. Regardless, there are a couple of things to look for and a couple of to expect when purchasing a smaller gas-powered chainsaw.
For one, pretty much every chainsaw, regardless of its size, will use a 2-stroke engine to generate as much power as possible. It is worth remembering that by using a 2-stroke engine, chainsaws will need an oil and gas mixture. In this instance, machining and engineering can help, but the pure size of the engine will often determine how powerful it is. This is where striking the right balance is key for manufacturers as a larger engine will provide more power, but it will also increase the weight and make the chainsaw less maneuverable.
Another thing to consider about the chainsaw's power is that it does not translate directly into cutting power. Granted, the larger engines that can generate can also generate more torque, but if the chainsaw cannot effectively transmit that power to the bar, the engine is little more than a heavy decoration. As such, identifying the transmission can be helpful, though not every manufacturer makes that information readily available.
Bar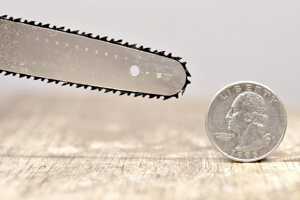 As with all chainsaws, the bar is one of the most important considerations, but like with all other qualities referencing smaller chainsaws, it is a bit complicated. The materials can have a bit of an impact, but steel is the most common material used by such a large margin that it is not something you likely have to worry about. Generally, the longer the bar the larger the timber you can cut, so long as the chainsaw can adequately distribute the cutting power along the length of the bar. However, longer bars also have a tendency to make the chainsaw less wieldy and completely throws off the balance of the machine in non-standard positions.
As such, smaller chainsaws much match the size of the bar with the rest of their chainsaw's physical and engineering specs. As such, you are rarely going to see a compact or smaller chainsaw with a bar over 14" long, and most of them have bars that are only 12" long. While this does limit the size of some of the timber you can cut with a smaller chainsaw, it makes using the chainsaw in a non-standard manner much easier. On top of that, skilled chainsaw users know that they can make any cut with a smaller chainsaw – it just might take more preparation and time to do so.
Chain
While this could technically be considered an accessory to the chainsaw since not every manufacturer includes one with the purchase, it is becoming far more common that manufacturers not only include a chain with their chainsaw but make sure that it is high-quality as well. In this regard, there are definitely some options that are significantly better than others, and an OEM is unlikely to satisfy your needs or last for any notable length of time.
Of course, some manufacturers go the extra mile and use high-quality chains like Oregon, Husqvarna, or Stihl – though the last two are proprietary and made to fit their respective brands rather than chainsaws in general. The difference between a quality chain and a poor one is not just something measured in performance but in safety too. While a chain snapping is frustrating no matter what, cheap chains made of soft metal can actually be dangerous when they break.
Safety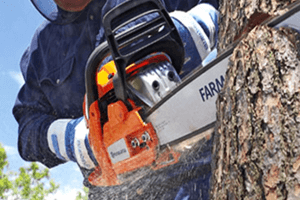 You would think given how aggressively a chainsaw cuts and dangerous it is that manufacturers would be more concerned with safety in terms of a priority. This is not to suggest they do nothing about safety, but there is definitely a lot left to be desired from this consideration. That said, there are still a number of features which are especially helpful at keeping a user safe when in the hands of an experienced user. The safety measures of a chainsaw are generally less impressive for someone who is not already fairly familiar with using a chainsaw in the first place, though there are some exceptions to this.
The biggest safety measure that chainsaw manufacturers employ is the use of anti-kickback functions at a couple of points on the chainsaw. The most common type of anti-kickback measure applies to the bar and is an uncommonly shaped tip that prevents the chainsaw from bucking back at you when the opposite side of the chain gets caught in the wood. Of course, the chains themselves can be made so that the teeth also have a similar kind of tip to further help prevent kickbacks. Other safety measures generally involve controlling the throttle of the chainsaw when the user might not be prepared like when they first start the chainsaw and when they turn it off.
Ease of Use
Chainsaws are not the most complicated power tool on the market, but that does not mean that they are necessarily easy to use nor intuitive. Some manufacturers make more of an effort towards this endeavor and are more or less effective depending on a confluence of factors. That said, there are a couple of features which are more prominent when making a chainsaw easier to use than others. One of the most popular types of features for easy use is by adjusting how the chainsaw starts. Gas-powered chainsaws with 2-stroke engines usually require some kind of pull-start to get the engine going. This is by far one of the more frustrating parts about using gas-powered lawn care equipment. Thankfully, many manufacturers have begun to include features which make it much quicker to start a gas-powered chainsaw and with less force required too.
Another popular feature that makes using a chainsaw easier involves how the manufacturer designs and constructs the chainsaw's body. Outside of offering some modest protection, the body can be made in a number of ways depending on what the manufacturer made the chainsaw to do. One of the most popular designs involves providing a large handle with which to maneuver the chainsaw more easily. In order to make maneuvering the chainsaw even easier and to further reduce fatigue manufacturers will often provide a cushion or anti-slip coating around the handle as well. On top of that, many manufacturers will include strategically placed weight in the body to help balance the chainsaw better and provide a more stable center of gravity.
Conclusion
In the end, the smallest gas chainsaw is only as good as the person using it and the job it is used for. The Tanaka may not top our list in any meaningful category, but it does offer the best combination of features, power, and price. Of course, if you need something a bit more powerful we recommend the Husqvarna with its 35.2 cc 2-stroke low-emission engine. That said, ECHO is the company you are looking for if you just want a small gas chainsaw that is easy to use. Finally, our budget option also happens to be our most powerful model – but it is also the largest too.